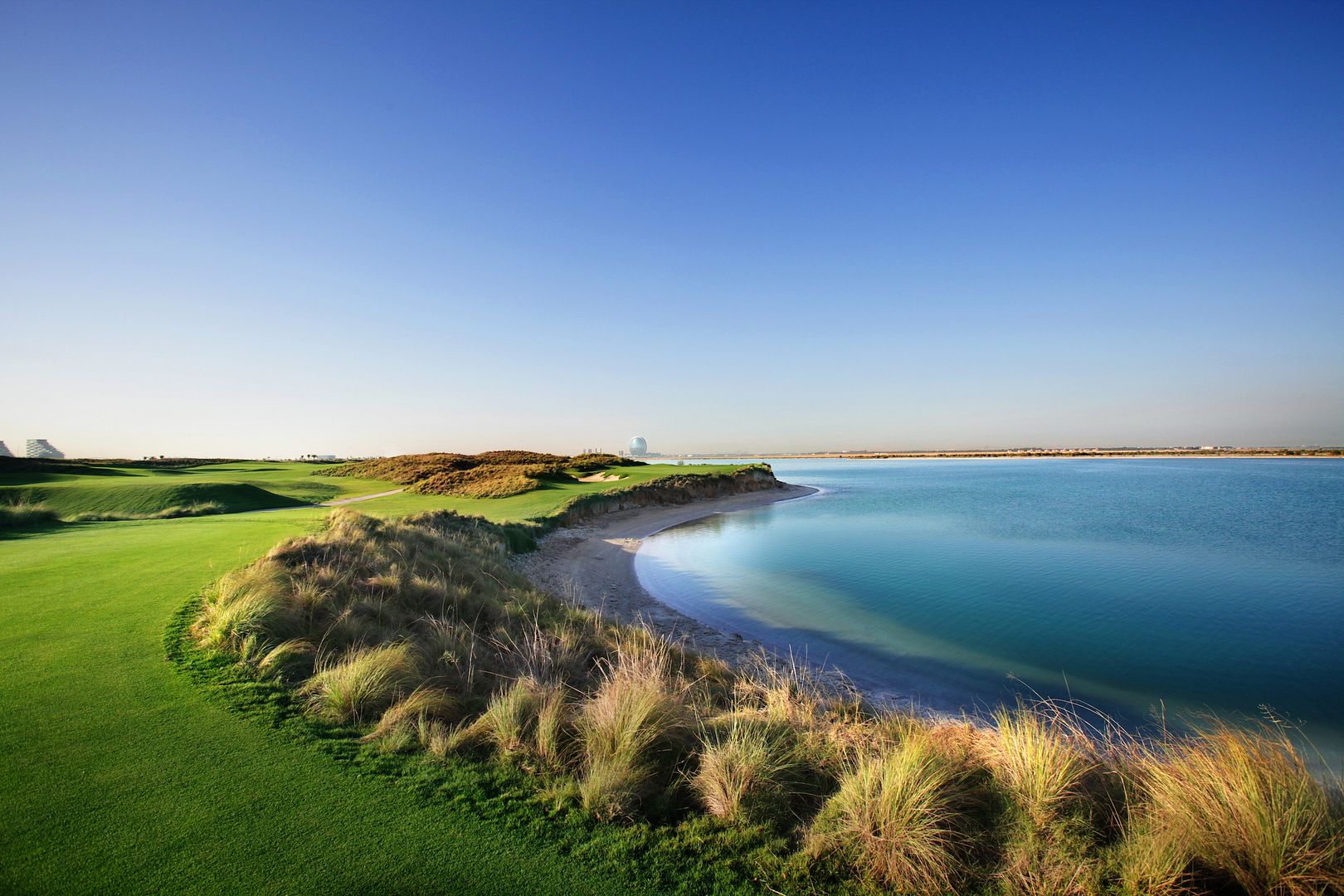 YAS LINKS ABU DHABI SHORTLISTED FOR 'BEST COURSE' IN MIDDLE EAST AWARD
(Yas Island, UAE – October 26, 2011) Yas Links Abu Dhabi (http://www.yaslinks.com), the UAE's newest and award-winning golf course, is on the cusp of further success after being shortlisted in the prestigious Asian Golf Monthly Awards 2011.
The UAE venue, which recently earned a place in the acclaimed Golf World Top 100 Courses in the World rankings for the first time, has been nominated, along with two other venues, in the Best Course in the Middle East category.
The gala awards ceremony will take place at the Pattaya Exhibition & Convention Hall in Thailand on November 2, 2011.
Chris White, General Manager of Aldar Properties (Golf Division), developer of Yas Links, said: "We are enormously proud to be shortlisted for another award, and one as important as Best Course in the Asian Golf Monthly Awards."
For Yas Links, already the recipient of a string of high-profile accolades despite having only opened last year, its shortlisting for the annual AGM 'Oscars' is "further acknowledgement of Yas Links' growing status within golf in the Middle East," according to Chris White.
This rise in prominence is highlighted by the various affiliate relationships the Yas Island-based club – whose celebrated championship links course was designed by leading golf course architect Kyle Phillips – has already forged with leading golf organisations and clubs worldwide for the mutual benefit of all parties.
For example, it teamed up with IMG, the global sports, entertainment and media company, earlier this year to support its Prestige service – a reciprocal programme that features a network of more than 30 premier golf properties and partners across the world. The services entitles Yas Links' full members, along with those at participating clubs, to enjoy 'preferred access' status (including special rates, discounts, benefits and privileges) offered by their counterparts and selected IMG Prestige partners.
These golf properties and partners – in established and emerging golf markets such as Australasia, Asia, the Far East and, of course, the Middle East – include Royal Golf Club (Bahrain), La Manga (Spain), Kingsbarns (Scotland), The Lodge at Kauri Cliffs (New Zealand), The Montgomerie Links (Vietnam), Legend Golf & Safari Resort (South Africa) and Lakeview (China).
"Our affiliate reciprocal partnerships forged through the IMG Prestige Service has helped elevate our standing among the world's finest venues, including those in growing golfing destinations such as the Far East, and serves to help achieve our vision of seeing Yas Links sit shoulder to shoulder with the very best," said Chris White.
Spencer Robinson, President (Editorial) of Asian Golf Monthly, said Yas Links fully deserved its place on the shortlist for Best Course: "That a course as young as Yas Links has gained so many admirers from all over the world in such a short span of time is a clear testament to the quality of the facility and the vision of the developers."
He added: "That so many courses in the Middle East received nominations in the 2011 Awards is an indication as to how popular the region is becoming as a golfing destination."
For more information about Yas Links Golf Club, Abu Dhabi please visit http://www.yaslinks.com
ENDS
Picture caption: Yas Links Abu Dhabi has been shortlisted as Best Course in the Middle East in the Asian Golf Monthly Awards 2011. This is the 13th hole.
###
Press release issued on behalf of Yas Links by Landmark Media, http://www.landmark-media.com
For more information, please contact Manuela Whittaker, .(JavaScript must be enabled to view this email address)
//';l[1]='a';l[2]='/';l[3]=";l[31]='"';l[32]=' 109′;l[33]=' 111′;l[34]=' 99′;l[35]=' 46′;l[36]=' 97′;l[37]=' 105′;l[38]=' 100′;l[39]=' 101′;l[40]=' 109′;l[41]=' 45′;l[42]=' 107′;l[43]=' 114′;l[44]=' 97′;l[45]=' 109′;l[46]=' 100′;l[47]=' 110′;l[48]=' 97′;l[49]=' 108′;l[50]=' 64′;l[51]=' 97′;l[52]=' 108′;l[53]=' 101′;l[54]=' 117′;l[55]=' 110′;l[56]=' 97′;l[57]=' 109′;l[58]=':';l[59]='o';l[60]='t';l[61]='l';l[62]='i';l[63]='a';l[64]='m';l[65]='"';l[66]='=';l[67]='f';l[68]='e';l[69]='r';l[70]='h';l[71]='a ';l[72]='= 0; i=i-1){
if (l[i].substring(0, 1) == ' ') output += "&#"+unescape(l[i].substring(1))+";";
else output += unescape(l[i]);
}
document.getElementById('eeEncEmail_ajAvZ9XRIb').innerHTML = output;
//]]>
, tel +44 1780 752790.
###
Notes for Editors:
Yas Links' widespread critical acclaim and prestigious accolades include:
'Best course in the Middle East' by Golf World contributor and Golf Course Architecture magazine editor, Adam Lawrence
Placed 5th in a Golf Magazine USA 'Top 10 New International Golf Courses of 2010' ranking
Ranked 2nd by one of the Middle East's most prominent newspapers, The National, in its Top 10 'professional-level' Golf Courses of the World – just behind the Old Course, St Andrews, Scotland, the historical home of golf
Yas Links has been referred to as a 'game-changer' for golf in the Middle East, as it takes the entire region to a new level with an exceptional experience and superior quality
Ranked at No. 1 in the latest Top 10 Courses of the UAE by the region's The National newspaper
First ever club, less than a year old, to have been decorated with the coveted Best Golf Course and Best Club accolades by Middle East Golfer awards 2011
Crowned Best Sporting Club in Abu Dhabi at the 2011 Best in Abu Dhabi Awards hosted by Ahlan!, the region's biggest-selling celebrity weekly
Declared World Top 100 Courses in to the influential Golf World rankings for 2011
About Yas Links
Aldar Properties, the developer of Yas Island presents the first Links Golf Course in the Middle East region designed by Kyle Phillips, one of the world's leading golf course designers.
This championship course is located on the west shores of Yas Island and includes a 5750 m2 (57000 ft2) luxurious clubhouse and world-class, floodlit practice ranges and academy of golf.
The Links course, which opened in March 2010, is a semi private golf club offering both golf and social membership as well welcoming guest play.
DISCLAIMER
Landmark Media International's clients are solely responsible for the accuracy of all information submitted by them for distribution. Landmark Media shall not be responsible or liable for any of the information transmitted on or through Landmark Media on behalf of clients, and shall not be responsible or liable for any investment decisions made based on such information.