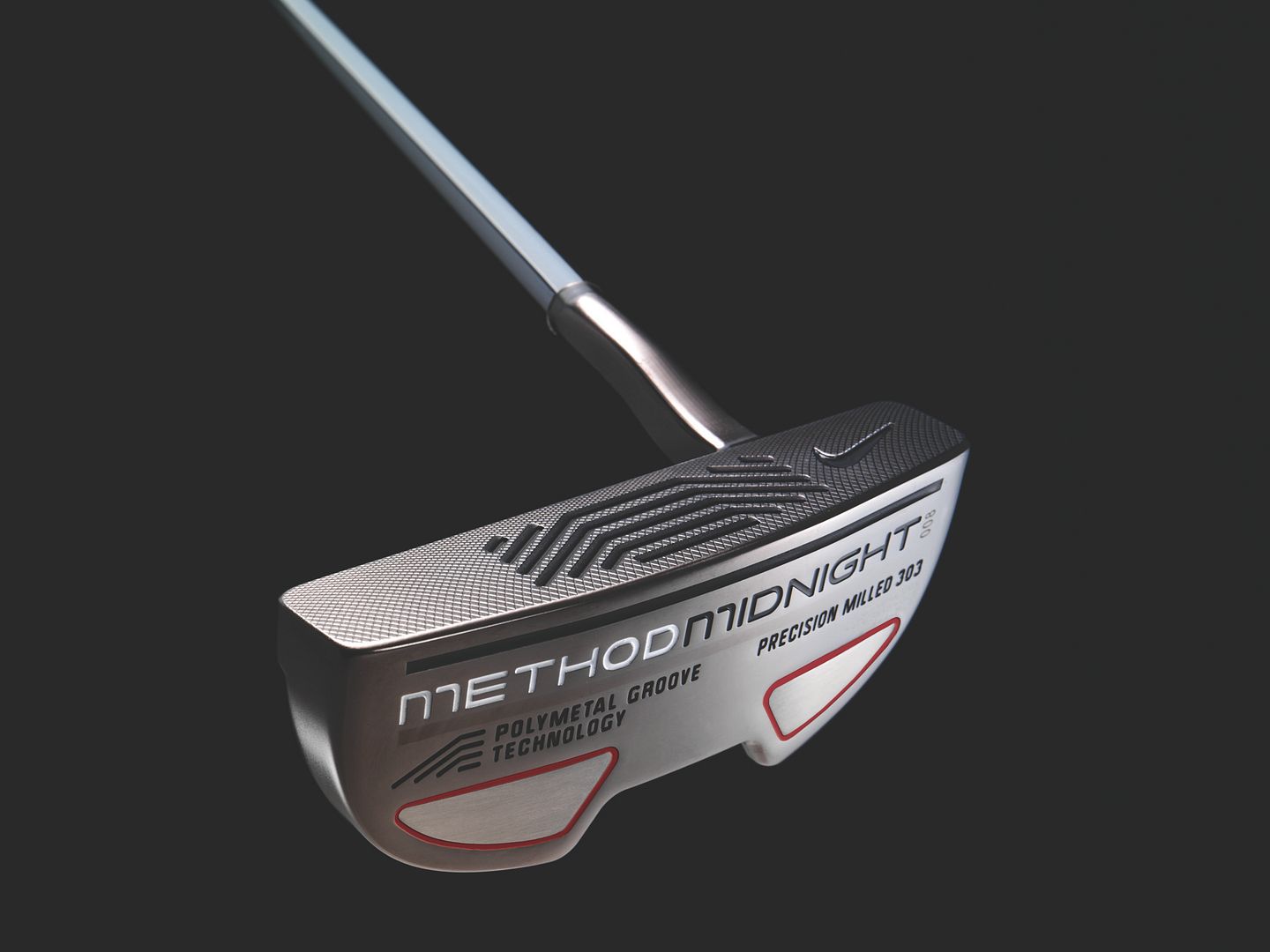 Nike Golf Introduces the Method Midnight Putters: New Shapes, New Look, Proven Method Technology
– Polymetal Groove Technology with a New Dark Chrome Finish-
BEAVERTON, Ore. (May 15, 2012 ) – There's a new addition to the successful Nike Method putter franchise and it has a dark side. Nike Golf is introducing the Nike Method Midnight putter that features Nike's revolutionary polymetal groove technology, which has been instrumental in the 34 wins by Nike athletes on the Professional Tours worldwide.
The Nike Method Midnight putter is available in new milled head shapes with a dark chrome finish and will be offered in three new models: Method Midnight 006, 007, and 008. All three models rely on polymetal face groove technology, which combine steel and polymer.
The ground-breaking Method putter technology was born of innovation and fueled by the demands of Nike Golf's Tour athletes. With major-winning technology, this putter delivers the roll, feel, and sound necessary for clutch putts in big moments.
"The multidimensional face is the primary technology of these products – everything revolves around this," said David Franklin, Master Model Maker.
The revolutionary and visibly distinctive polymetal groove technology generates a forward roll almost immediately after impact for the kind of accuracy and consistency that is demanded by Tour professionals. While most traditional steel faced putters start the ball with backspin causing the ball to initially bounce, the polymetal groove technology starts the ball with forward spin to minimize bounce and keep putts on line.
The prototypes of the Method Midnight 006 and 007 already have proven Tour success. Nike athletes Lucas Glover and Stewart Cink both used the Method Midnight 006 head shape to win the 2009 U.S. Open and Open Championship, respectively, and Michelle Wie's first LPGA victory came with the Method Midnight 007 head shape.
Nike Golf's Method Midnight putters ($323.99 MSRP/$269.99 MAP) will be available June 15, 2012 in all three models. The Method Midnight 006 will also be available in a left-handed version.
Nike Method Midnight
Availability: June 15, 2012
Specifications:
006 (RH/LH), 007 (RH), 008 (RH)
Available in 33", 34" and 35"
MSRP: $323.99 MAP/Street Price: $269.99
_____________________
Located at NIKE's World Headquarters in Beaverton, Oregon, Nike Golf designs and markets golf equipment, apparel, balls, footwear, bags and accessories worldwide. Nike Golf is passionately dedicated to ushering in the future of this great sport by developing ground-breaking innovations that enable and inspire athletes to become better. For more information on Nike Golf, visit our Web site at http://www.nikegolf.com. To follow Nike Golf on Twitter visit http://www.twitter.com/nikegolf and to become a fan on facebook go to http://www.facebook.com/nikegolf. To view Nike Golf videos subscribe to our You Tube channel at http://www.youtube.com/nikegolf. Editors and journalists in the U.S. seeking editorial information and downloadable images, visit http://www.nikegolf.com/presscenter. For international journalists, please contact Nike Golf's public relations representative in respective countries for information.
# # #