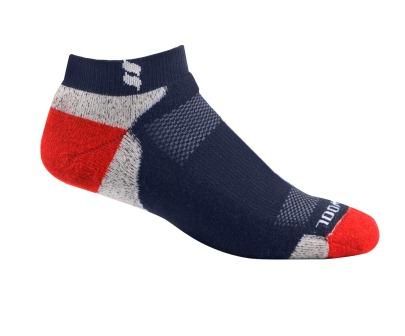 KENTWOOL Staff Player Bubba Watson to Premiere Limited-Edition Charity Sock at
2012 U.S. Open Championship
Red, White and Blue Style Benefits Greenville, SC Children's Shelter through
'Bubba & Friends Drive to a Million' Initiative
(GREENVILLE, SC) – KENTWOOL – the 169-year-old, family-owned American textile innovator – announces a limited-edition Tour Profile performance golf sock in red, white and blue is now available at http://www.kentwoolsocks.com with sales benefitting Pendleton Place, a Greenville, SC-based children's charity as part of the "Bubba & Friends Drive to a Million" initiative.
Offered through July 15 and slated to be worn during the U.S. Open by 2012 Master's champion Bubba Watson, the socks ($19.95) feature a navy base with red and white accents. From each sale, $5 will be donated to support Pendleton Place, which provides abused and neglected children with shelter and care in a nurturing environment.
Working with the "Bubba & Friends Drive to a Million," KENTWOOL will help the organization reach its goal of raising $1 million for charity through Watson's own efforts and the support of his partners and sponsors.
"Bubba is one of the most committed guys on Tour when it comes to raising money in support of worthy causes," says Mark Kent. "He's such a great ambassador and joining forces to raise money for a tremendous charity is something that means a lot to me and the KENTWOOL family."
Currently No. 4 in the Official World Golf Ranking, Watson shot to worldwide fame following his historic playoff victory at Augusta National. Since joining the PGA Tour in 2006, the long-hitting Floridian has won three other titles, including the 2010 Travelers Championship, 2011 Farmers Insurance Open and Zurich Classic of New Orleans.
"KENTWOOL offers an amazing, American-made product that keeps my feet feeling great all the time," says Watson. "I love rocking these socks and, with the support of my fans, am excited to help make a difference in the lives of some really deserving kids."
Crafted from a proprietary blend of fine merino wool and high-tech fibers for superior moisture management, the socks come with a 100 percent blister-free guarantee. Featuring WINDspun technology that infuses the fibers with air, KENTWOOL Golf Socks have an innovative, micro-climate system that wick moisture and provide superior odor control. This creates unrivaled cushioning at micro-stress points along the foot, enhancing comfort and energy levels while reducing injury risk.
Retailing from $19.95 to $24.95, KENTWOOL golf socks are available in the ankle-length Tour and Low Profile models for both genders and mid-calf Tour Standard crafted exclusively for men.
In addition to Watson, they are worn in competition by scores of Tour stars worldwide, including Matt Kuchar, Jonathan Byrd, Ryann O'Toole, Peter Jacobsen, Duffy Waldorf, Brendon de Jonge, Tom Gillis, Jane Park, Charles Warren, Kevin Johnson, Kristy McPherson, Shasta Averyhardt, Jenny Suh, Sarah Kemp, Jenny Gleason, Meaghan Francella and Jenny Hong.
For more information: http://www.KENTWOOLSocks.com, 1-877-5-PROSOX (1-877-577-6769).
About Pendleton Place
Since its founding in 1975, Pendleton Place Children's Shelter has been filling an important need in the Upstate South Carolina community by providing a place of safety and comfort for children who have been hurt by abuse, neglect, or abandonment. Pendleton Place provides emergency shelter and residential services for boys (birth – 11) and girls (birth – 21). When children arrive at Pendleton Place, they are often hungry, dirty, sick, or have injuries that require medical treatment. All are emotionally traumatized and in need of special attention to make them feel safe again. Much more than a roof over their heads, Pendleton Place provides the structure, support, and professional guidance these children need to begin the healing process.
Visit Pendleton Place on the web: http://www.pendletonplace.org facebook.com/pendletonplace
About KENTWOOL
Founded in 1843, KENTWOOL continues to be one of the nation's longest-running, family-owned textile companies. KENTWOOL is the only company in the western hemisphere — and one of 50 in the world — to receive the Usterized Quality Certification indicating the highest level of quality assurance in yarn production.
An avid golfer, KENTWOOL CEO Mark Kent had the idea to produce the "World's Best Golf Sock" after standing in the 18th fairway of the BMW Nationwide Tour Pro-Am tending to blistered, bleeding feet instead of concentrating on the eagle opportunity guaranteeing him a spot in the final round.
Born from that moment is golf's leading, premium merino wool golf sock. It enables golfers of all abilities to play their best while benefiting from abrasion and fatigue resistance, as well as KENTWOOL's blister-free guarantee. KENTWOOL utilizes its nearly two-century-old heritage of superiority in textiles to create socks which draw upon wool's natural and cool performance fibers for moisture management, sheer comfort and other performance-enhancing benefits.
Based in Greenville, SC, all KENTWOOL products are made in the USA.
For more information: http://www.KENTWOOLSocks.com, 1-877-5-PROSOX (1-877-577-6769).