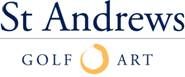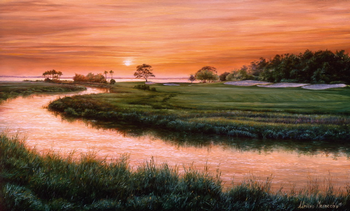 American Artist Adriano Manocchia's Expressive Golf Landscapes Available at St. Andrews Golf Art
St. Andrews, Scotland (January 19, 2012)—St. Andrews Golf Art (http://www.standrewsgolfart.com), currently is showcasing six leading contemporary artists whose golf specific pieces are sought after by private collectors, clubs and enthusiasts. The prestigious online gallery carefully selected respected and established talent for its introduction in 2011 to art connoisseurs.
Adriano Manocchia brings a rather unique perspective to his art from past professional assignments and experiences. He began his career as a photo-journalist and ran his own photo/film agency in New York City. Adriano spent 12 years traveling the world to cover news events for television and print media. Many of his assignments were at the White House.
In the 1980s, Adriano turned to painting full time, concentrating on wildlife and the great outdoors. His fluid style, dramatic use of light and a fascination with water were reflected in works of varying moods and nuances. Accolades and awards brought Adriano immediate recognition from art critics and collectors. A Bald Eagle painting was selected to commemorate the 200th anniversary of the Constitution by the U.S. Bicentennial Committee. Through his distinctive art, Adriano has supported Ducks Unlimited, Atlantic Salmon Federation, Trout Unlimited, Rocky Mountain Elk Foundation, American Cancer Society and the Special Olympics.
Adriano's mesmerizing landscapes (and waterscapes) brought him into the golf arena when the United States Golf Association in 1992 commissioned him to paint a series of oils of famous courses. His first two efforts depicted the famous 8th hole at Pebble Beach and The Honors Course in Tennessee. The two images were issued as prints and were sold to raise funds for the USGA/Audubon Cooperative Sanctuary Program. The success of this venture led to many more golf art commissions from private clubs in the U.S. Most recently, Adriano created a major painting for the PGA TOUR that depicts the 18th hole at TPC Sawgrass, site of THE PLAYERS Championship, with the Tour's spectacular clubhouse in the background. The work is on display in the clubhouse's Champions Room.
"I paint landscapes that have come from encounters with nature, trying not to make the paintings seem ideal," Adriano explains. "The light in my work has a photographic but painterly quality to it. There is little doubt that I am a visual person. And it is that incessant search for the visually stimulating that makes this voyage exciting."
Adriano's paintings have appeared in numerous publications, including Gray's Sporting Journal, Flyfishing, Fly Rod & Reel, Collector Editions, Outdoor Life, Premiere (Monte Carlo), Wildlife Art, Conservationist, Pescare (Italy), Flyfishing Quarterly, Bugle, U.S. Art, Sporting Classics and Flyfisher (Japan). His work also is reproduced in several fine art golf books.
Adriano resides with his family in upstate New York in the picturesque and art rich community of Cambridge.
About St. Andrews Golf Art
St. Andrews Golf Art was established with the intent of "Celebrating Golf's Greatest" and new works by contemporary artists, as well as rare collectibles, will be added in the future. Collectors may register online to receive updates on new releases in the company's informative newsletter, including the launch of a collectors club in the future.
St. Andrews Golf Art also welcomes inquiries for special commissions from golf clubs, corporate clients or individuals who appreciate the appeal of acquiring a significant piece(s) of art from one of the world's foremost golf artists. This could include incorporating a series of relevant pieces for a themed area, room or corridor of a clubhouse or private residence.
For further information, contact Alasdair Busby at .(JavaScript must be enabled to view this email address)
//';l[1]='a';l[2]='/';l[3]=";l[30]='"';l[31]=' 109′;l[32]=' 111′;l[33]=' 99′;l[34]=' 46′;l[35]=' 116′;l[36]=' 114′;l[37]=' 97′;l[38]=' 102′;l[39]=' 108′;l[40]=' 111′;l[41]=' 103′;l[42]=' 115′;l[43]=' 119′;l[44]=' 101′;l[45]=' 114′;l[46]=' 100′;l[47]=' 110′;l[48]=' 97′;l[49]=' 116′;l[50]=' 115′;l[51]=' 64′;l[52]=' 111′;l[53]=' 102′;l[54]=' 110′;l[55]=' 105′;l[56]=':';l[57]='o';l[58]='t';l[59]='l';l[60]='i';l[61]='a';l[62]='m';l[63]='"';l[64]='=';l[65]='f';l[66]='e';l[67]='r';l[68]='h';l[69]='a ';l[70]='= 0; i=i-1){
if (l[i].substring(0, 1) == ' ') output += "&#"+unescape(l[i].substring(1))+";";
else output += unescape(l[i]);
}
document.getElementById('eeEncEmail_xqPrwtu7Yk').innerHTML = output;
//]]>
or by telephone 0044 (0)7757 358918.